Dove Healthcare


Rutledge Home
300 Bridgewater Ave
Chippewa Falls, WI 54729
---
---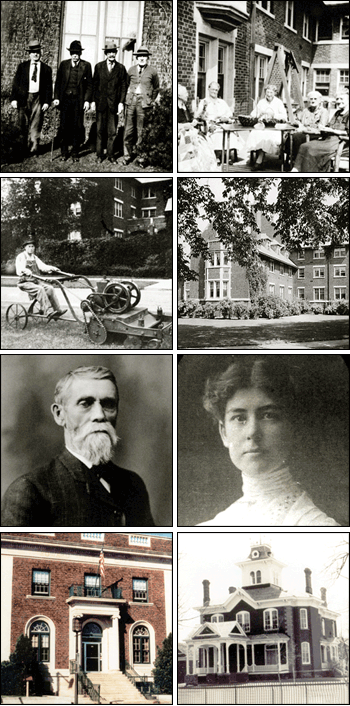 Edward Rutledge Charity Building (bottom left)
Cook-Rutledge Mansion (bottom right)
---
Photos courtesy of Chippewa County Historical Society and Chippewa Falls Main Street
History of Rutledge Home
Established in 1913, Dove Healthcare - Rutledge Home continues the tradition of providing quality care to seniors in need of assisted living services and to those who require specialized memory care services.
With roots dating back to 1873, the Rutledge Home name is deeply embedded in the Chippewa Falls, Wisconsin community.
As a memorial to his wife, Hannah, and a desire to provide shelter and care for the aged, Mr. Edward Rutledge, bequeathed funds in his will for the construction of The Hannah M. Rutledge Home for the Aged. Construction took place from 1910-1913, and on May 1, 1913 the home opened at 300 Bridgewater Avenue in Chippewa Falls, Wisconsin. Those that moved in could stay at Rutledge Home for as long as they needed, under the condition they turned over all of their assets to Rutledge Charities upon their passing.
Born in Northern Ireland on March 6, 1834, the son of Lettitia (Coulter) and John Rutledge had nine siblings. With the opportunity to buy their own land, the family moved to Canada when Edward was eleven. The farm was not providing enough, and when Edward was about sixteen, they moved to Michigan to join the lumberjacks cutting trees. Later Edward moved to Wisconsin and became a timber cruiser (a cruiser marked the trees to be cut down). He worked in the woods all winter, and, in the summer, he came into Chippewa Falls, eventually staying at a boarding house run by Hannah Gregg. Edward fell in love with the widow, and they married when Edward was 39 and Hannah was 44. They moved into what is now the Cook-Rutledge Mansion in 1887.
It was through the guidance of his employer and friend, Frederick Weyerhaeuser, owner of the big sawmill in Chippewa Falls, that Edward was able to make very good investments and accumulate a great deal of wealth. Hannah died October I, 1910. Edward passed away on July 27, 1911. Fortunately, 100 years later, the legacy of the forward-thinking, generous, and compassionate Mr. Rutledge lives on.
Edward Rutledge Charity Building: Built in 1917 in memory of Edward Rutledge. The charitable Mr. Rutledge set aside money in his will to establish an organization to help people in need and assist benevolent or charitable organizations. This foundation has carried on Mr. Rutledge's wishes ever since.
404 N. Bridge Street, Chippewa Falls, WI
(715) 723-6618
Cook-Rutledge Mansion:
505 West Grand Avenue, Chippewa Falls, WI
(715) 723-7181 Visit the website.
Through the Years...
In 1964 a new wing was added on using the same architecture as the original building, but it included modern facilities such as bathrooms in the resident rooms. Operating as communal living for the first 60 years without any type of licensure required, in the mid-1970's Rutledge Home became licensed as a skilled nursing facility by the State of Wisconsin due to the frailty and increasing care needs of the residents. Although the tradition of caring for the elderly would continue, regulations and state oversight imposed financial, operational, and human resource changes on the nursing home. In 2004 Rutledge Charities sold Rutledge Home to Tommy Davidson, owner / operator of Dove Healthcare in Eau Claire. In that same year Dove Healthcare - Rutledge Home became Medicare certified and started providing rehabilitation services. The 92-bed nursing home continued operations for the next three years. In January 2007, Dove Healthcare - Rutledge Home merged with sister facility Dove Healthcare - Regional Vent Center, also located in Chippewa Falls. Most of the residents moved to Dove Healthcare - Regional Vent Center. Dove Healthcare - Rutledge Home then closed for a few months to undergo renovations.
Today...
Dove Healthcare - Rutledge Home re-opened in March 2007 as an assisted living residence. Although modern renovations have taken place, the wood work, library, grand dining room, and fireplaces with built-in bookshelves have all been respectfully preserved, and historical photos displayed throughout stir memories of "the good ol' days." Initially, there were 29 resident rooms. In the winter of 2009, Dove Healthcare - Rutledge Home expanded the second floor memory care.
Today, Dove Healthcare – Rutledge Home has the capacity to serve 42 residents with assisted living and memory care services.